At Diversified Automation we are dedicated to employing innovative engineers who are experts in their field. Our team currently consists of more than 150 engineers and project managers, including individuals who are past and current members of our Armed Forces.
We are thankful for the members of our team who have served our country, including veteran sailors, soldiers, and airmen as well as a Marine Reservist, Captain Jacobsun M. Murphy.
Last month, our commitment to supporting members of our Armed Forces was recognized by Jake. On June 22, 2018 we were honored to receive the National Guard and Reserve Patriot Award presented by Brigadier General (Retired) Greg Nelson of the Kentucky Air National Guard.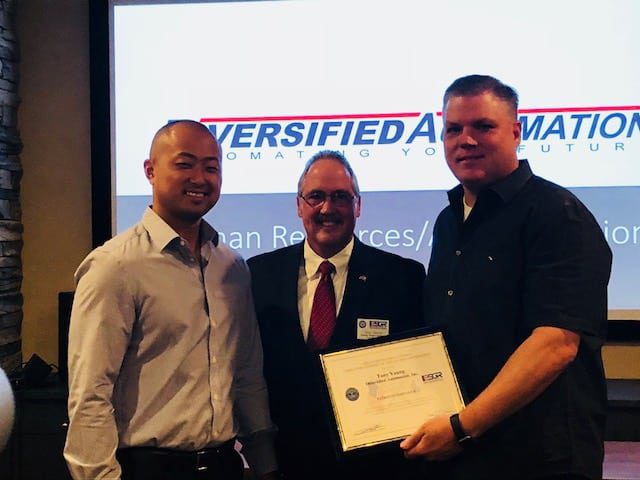 The Patriot Award: Employers who support a strong National Guard and Reserve force
Employees nominate their employer for the Patriot Award when they exemplify support for employees who are members of the National Guard and Reserve force. Supportive employers not only maintain contact with employees while they are on annual training or mobilized, but also participate in ESGR programs, publicly acknowledge the contributions of Reserve component employees, and support Guard & Reserve employee families during mobilizations.
Additionally opportunities to support our National Guard and Reserve members comes in the form of structured policies and benefits, such as having a published leave policy, providing pay differential during periods of military training and mobilization, providing paid military leave, and continuing insurance and monetary benefits during mobilization.
We are incredibly thankful for Jake's service to our company and to the nation. Jake is a Captain in the Marine Corps with 5 years of service and is the Executive Officer of Company A, 4th Combat Engineer Battalion in Charleston, WV. As a member of the Marine Corps, Jake commands Marines in a Combat Engineer line company on the Division side. acts as advisers and subject matter experts in mobility, counter-mobility, and survivability.
He has also worked with Diversified Automation for 4 years as an Engineering Coordinator.
In regards to his experience working at Diversified Automation, Jake had this to say:
"in 4 years, the daunting amount of work and demanding timelines place a severe level of responsibility on every single employee – even more so because we are growing so rapidly and trying to hire enough personnel to scale adequately. I have had projects to manage but also had the responsibility of running the operations and staff of a company of Marines, made more demanding due to a shortage in SNCOs and officers.
Although my absence for military obligations throughout the year created even more hardship, Tony constantly reinforced that my military obligations weren't a burden, but that he was appreciative of my service. Since I joined DAI in 2014, I have had to miss countless months of work for military training, planning conferences, and the constant duties of commanding Marines. There hasn't been a single occasion that I was made to feel reluctant or guilty or that I should adjust to fit the company's demands. That level of support allowed me to serve my Marines better, and for that I am grateful."
General Nelson presented the award to our founder, CEO, and President, Tony Young at our company-wide quarterly meeting. We coordinated with Jake and General Nelson prior to the quarterly meeting to surprise Tony with the presentation.
General Nelson served in the United States Air Force and Kentucky Air National Guard for forty years and actively flew for 27 years as an RF-4C weapon systems officer and C-130 instructor navigator. General Nelson held multiple leadership positions including 123d Airlift Wing Commander, and Director of Mobility Forces for both United States Northern and Central Commands. He finished his career in the Pentagon as the National Guard Bureau Deputy Director of Strategy, Policy, Plans, and International Affairs. During his career, General Nelson participated in Operations Desert Shield, Desert Storm, Southern Watch, Provide Promise, Joint Forge, Coronet Oak, Noble Eagle, Enduring Freedom, Iraqi Freedom, and New Dawn.
We are honored to have had General Nelson present the Patriot Award to our company.
For over 15 years we have been building a team dedicated to turning our customers into raving fans through quality service, industry expertise, and creative collaboration. And we encourage each team member to take every aspect of their job personal, but also encourage our team members to excel outside of the office as well. By supporting one another and fostering professional growth for every employee, we have developed a workplace that stands out in our industry. Learn more about our team and how you can become a part of it by checking out our careers page.
SaveSave